'
PUBLICIZING THE PALESTINE QUESTION
AND THE ACTIVITIES OF THE ARAB LIBERATION MOVEMENT
Before "Ashoura", Eltaher had created in Cairo in 1921 the Arab Palestinian Information Office and the Palestinian Committee in Egypt. His office in Cairo, known as "Dar Ashoura", i.e. Ashoura House, was first located at 30 Abdelaziz Street, off Ataba El-Khadra Square in downtown Cairo. Eventually he moved to the Manousakis building at 119 Queen Nazli Street, known today as Ramses Street.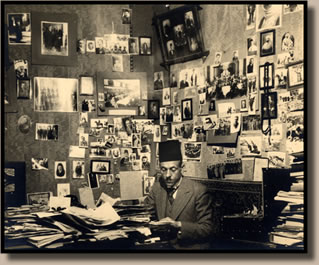 Eltaher's old office on Abdelaziz Street in Cairo in 1939
The Palestinian Committee in Egypt was comprised of Palestinians, Egyptians and other Arabs, and included writers, religious learned men, poets, journalists, lawyers and other intellectuals. It kept the public in Egypt and the Arab and Islamic worlds aware of the activities of the various national liberation movements by issuing statements, calls, complaints and comments on current events in these countries. Thus Eltaher became the connecting point between the two worlds at the official and public levels by introducing each one to the other, and by keeping them aware of each other's issues and achievements.