THE FREE OFFICERS MOVEMENT IN EGYPT
When the Free Officers, led by Colonel Gamal Abdel-Nasser staged their coup d'état in Egypt, i.e. the July 23, 1952 Revolution, Eltaher was spending some time with his family in Alexandria. The King as well as the Royal Family, the cabinet and the diplomatic corps accredited to Egypt normally spent the unbearably hot summers of Cairo on the Mediterranean shores at Alexandria, which became for a few months the summer capital of Egypt.
Eltaher, like all nationalists in Egypt, was supportive of the Free Officers Movement. He occasionally received the secret tracts distributed by the officers before the coup d'état. While Eltaher was particularly angry at the role played by local stooges of British colonialism among some Egyptian officials especially within the police, the censorship office, the Ministry of the Interior, the Special Branch (El-Qalam El-Makhsous), the Arab Affairs Directorate and the Foreigners Department, which considered him to be a "foreigner", he was not opposed to the monarchy per se. Admittedly, King Farouk's personal behaviour and the state of debauchery that was pervasive towards the end of his rule had become unacceptable either officially or to the people. It would be unfair though to dwell just on the negative side of the king's personality, without pointing out to some of his positive actions as will be shown later in this site.
The new revolutionary regime though chose eventually not to deal with popular nationalists in Egypt, and tended sometimes to rely on some of those who collaborated with the British during the ancien régime and let them loose on the nationalists.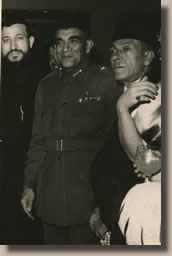 With General Mohamed Naguib in 1953
Eltaher was one of those who got a similar treatment from the Ministry of the Interior, which prohibited him from re-publishing "Ashoura" after its license was reinstated to him in the short period during which General Mohamed Naguib was Chief of the Revolutionary Council and first President of Egypt. The Ministry of the Interior ordered Eltaher to sign an undertaking that he would not publish "Ashoura". When objections to their heavy-handed action increased and complaints from the public multiplied, he was forced to sign another document by which he had to undertake "... not to try and publish the paper".
    
Having had to go through that experience, and having observed how long-time Egyptian nationalists, both men and women, were treated, at a time when some of the Revolutionary council members had personal friends among them, he realized with much pain that Egypt had changed.
In April 1955 Eltaher seized the opportunity of an invitation by the Chief of Staff of the Syrian Armed Forces, Brigadier Shawkat Shoucair, to attend the commemoration of Syria's independence from France on April 17, 1947 and flew to Damascus for what was anticipated to be a few days' absence. It never occurred to him nor to his family that this would be the last time he would see Egypt, his homeland since 1912, when he reached it aboard a fisherman's boat that took him from the small port of Jaffa to Port Said as described earlier. Eltaher never returned to Egypt afterwards and lived and died wishing he could "... go back to his adoptive homeland where he spent fifty years of his life, and longed to meet his long-time friend and supporter Moustafa El-Nahhas Pasha before he died," as he kept repeating every now and then.20