FORMAL RECOGNITION OF ELTAHER'S ACHIEVEMENTS
Eltaher was known to all either by his full name, or by his traditional surname "Aboul-Hassan". But, whoever referred to him in writing addressed him as "Al-Moujahed Al-Aarabi Al-Kabir", namely the Great Arab Moujahed (i.e. Great Man of Struggle). The title came to him naturally from his close friends and those who respected his position, his knowledge, and the degree to which he had dedicated his life for the sake of just and rightful causes in the Arab World.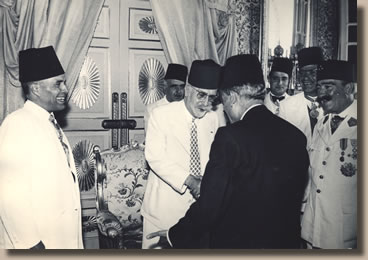 Eltaher receiving the medal award certificate from Mohamed Lamine, Bey of Tunisia in 1956.
Prime Minister Bourguiba and the Royal Palace officials are grinning for something Eltaher must have said.
From a formal viewpoint, Eltaher was recognized officially for his long and sincere efforts through the following decorations:
1 – The Grand Order of Iftikhar (Excellence)
This decoration, the first ever awarded to him, was presented to him at the Royal Palace in Tunis by Mohamed Lamine, Bey (i.e. King) of Tunisia in August 1956.
2 – Order of the Throne (3rd Class)
Awarded and presented by King Mohamed V of Morocco at the Royal Palace in Rabat in July 1960.

3 – Order of Independence (2nd Class)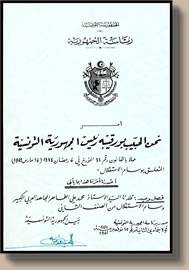 Tunisian medal award certificate
Awarded and presented by President Habib Bourguiba
at Carthage Palace in Tunis in November 1961.