RECOGNITION OF ELTAHER'S LEGACY
Eltaher's incredible struggle and relentless efforts have garnered much appreciation and recognition for his achievements throughout his life and after his death. Arab newspapers as well as political and literary magazines and journals continue to mention him and his work until now. He always had a special recognition and respect because he was a man of absolute integrity, who never asked anything for himself and refused to take any money from anybody in order to maintain his freedom to say and write whatever he thought was right. While many Arab political figures were pro-Ottoman, pro-British, or pro-French, or even on either ones's payroll, Eltaher was none. That made him an inconvenience for some, but certainly a very popular breath of fresh air for most. He never shrank though from helping his friends and comrades and obtained funds for them from well-to-do nationalists and supporters of good causes without ever keeping anything for himself or his family.
When his financial situation worsened during the last few year of his life, by which time he was eighty years old, he accepted with much hesitation that his long-time friend President Habib Bourguiba pay his Beirut apartment rent. As all famous and successful people have their detractors, Eltaher did not escape sometimes this rule, as he was booed by those who had an interest with his opponents, or those who did not want to know anything about him, or those who simply imagined things that are totally false. Yet, at the end, it is righteous virtue and truthfulness that always prevail.
When, unbeknownst to him, the government of President Gamal Abdel-Nasser stripped him of his Egyptian citizenship in 1963, King Hassan II of Morocco did not waste time in issuing Moroccan passports to him and to his family. When President Anwar Sadat subsequently became President of Egypt following the death of President Nasser, he reinstated the Egyptian citizenship to the family. It was only then that Eltaher's friends and supporters in Egypt were able to publish his name or mention it without fear. Despite his fame and reputation, Eltaher did not obtain his Egyptian citizenship originally until April 1950, i.e. 38 years after he had arrived in Egypt, and not before the case was raised in the Egyptian parliament.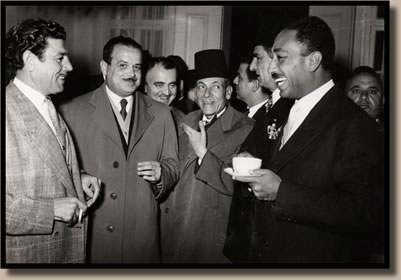 From right to left: Anwar Sadat, Secretary General of the Islamic World Conference and future President of Egypt;
Lebanese parliamentarian Salah El-Bezri; Mohamed Ali Eltaher; Medhat Fatfat, Ambassador of Lebanon to Egypt;
Emir Farid Chéhab, Director of Lebanese General Security; Younes Bahri, Iraqi journalist and founder of the Arabic program at Radio Berlin during World War II – Beirut 1955
Eltaher had a very warm relationship with Egypt, where he was particularly loved by people from all levels of society and religious denominations, from senior officials during the period preceding the mid-1950's, to simple citizens, be it in Cairo, the countryside, or anywhere else in Egypt. When his mother passed away in Palestine, Prime Minister Nahhas Pasha and his deputy Makram Ebeid Pasha visited him in person at his office on March 5, 1936 to present their condolences.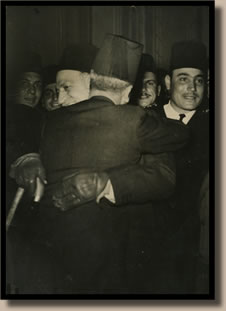 Egyptian Prime Minister Moustafa El-Nahhas Pasha embracing Eltaher during a reception at Zaafaran Palace in Cairo in 1950. The two men always met in this fashion as a sign of warm friendship