ELTAHER'S FIRST NEWSPAPER
Once his income improved a bit, and in order to further increase the scope and reach of his nationalist writings, Eltaher applied for and obtained a license to publish a weekly newspaper in Cairo. The paper, named "Ashoura", i.e. Consultation, dealt mainly with political issues related to the Levant. The first issue was published on October 22, 1924 and its mission statement was: "A newspaper concerned with issues of interest to peoples under oppression and enslaved nations." He then changed the mission statement to "A newspaper dealing with issues of concern to Arab and oppressed countries", then finally changed it one more time to: "A newspaper dealing with issues of the Arab and oppressed countries".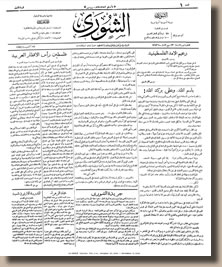 First issue of the "Ashoura" newspaper - October 22, 1924

The newspaper quickly became the voice of the Arab nationalist movement in the Mashreq and Maghreb countries9, including other countries of the Muslim World such as India and Indonesia, and even some African countries such as Sudan and the island of Zanzibar, now part of Tanzania since the 1960s. Nationalist newspapers published in those countries were silenced by the colonial masters, were they British, French, Italian or Dutch. Eltaher's newspaper, "Ashoura", published news it received from its correspondents in these countries about the doings of the colonialists including publishing names of traitors collaborating with the colonial powers, irrespective of their importance or the positions they held. It also listed the names10 of martyrs, donors to the nationalist cause, persons participating in nationalist events, and signatories of petitions calling for freedom and independence. It also published op-ed pieces, analysis, poetry, and even humorous news about certain events or ironic situations.
The full collection of "Ashoura" and its sister publications may be accessed through this link or through the publications tab above.