"SEGN EL-AGANEB" (FOREIGNERS' PRISON)
When World War II erupted in 1939 and Egypt imposed emergency measures in the country, anticipating the draconian measures to be imposed soon, Eltaher decided to stop publishing his newspaper "
Al-Alam Al-Masri
", dissolved the "Palestinian Committee" and closed the Palestine Information Office, but also went as far as refraining from all political activities. Despite all that, British authorities asked Egyptian Prime Minister Ali Maher Pasha to put Eltaher under arrest. Ali Maher refused, but they eventually prevailed on his successor Hussein Sirri Pasha.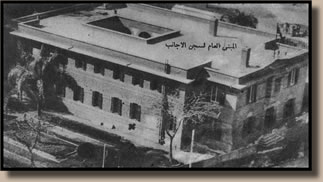 Foreigners' prison in downtown Cairo in 1941
Eltaher's cell is marked by (x)
On September 20, 1940 Egyptian police arrested Eltaher and kept him in "
Segn El-Aganeb
" (i.e. Foreigners' Prison) in downtown Cairo not far from the current main railway station. He fell sick however after a few months in prison and was transferred to Demerdash Hospital where he was kept under police guard. But by mid-1941 he succeeded in escaping
15
and spent about eleven months as a fugitive travelling constantly all across Egypt under a variety of disguises.
When the government of Prime Minister Hussein Sirri Pasha was dissolved on February 5, 1942, and the Egyptian nationalist leader Moustafa El-Nahhas Pasha was asked to form a new government, Eltaher went surreptitiously to the Prime Minister's office disguised as an Arab sheikh to deceive the police and surrendered to the Prime Minister in person. Nahhas Pasha knew him quite well, and immediately granted him his freedom, and Eltaher returned forthwith to his apartment on Shoubrah Street in Cairo. The exciting Hollywood-like adventures of Eltaher, which involved his wife too, from the time he was arrested until his release, are told in detail along with pictures in his book "Zalam El-Segn", which was published in Cairo in 1951.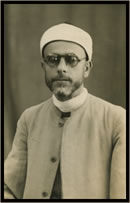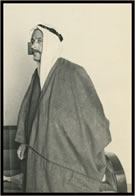 Eltaher in various disguises during his fugitive years from 1941 to 1942